Skip to Content
As trusted health professionals, we have a responsibility to keep our patients safe from products that could cause harm. The American Dental Association also works to provide its members and the entire dental profession with clinical information that can guide patient care.
The health care community continues to learn more about the overall health risks of vaping. With regard to the oral cavity, preliminary research—while extremely limited—suggests potential concerns related to caries, periodontal disease, and oral cancer. The forthcoming April 2020 issue of the Journal of the American Dental Association will feature commentary supported by these early findings and highlight the state of the evidence on vaping and oral health.
Historically, the ADA has long opposed the use of any tobacco product, and encourages any tobacco users to quit by using FDA-approved cessation methods. In line with this stance, and as federal agencies continue to investigate vaping's implications for public health, the ADA has adopted an ad interim policy on vaping, calling for a total ban on vaping products that aren't approved by the Food and Drug Administration (FDA) for tobacco cessation purposes.
The policy, adopted in December 2019, states that the ADA will urgently advocate for regulatory, legislative, and/or legal action at the federal and/or state levels to ban the sale and distribution of all e-cigarette and vaping products, with the exception of those approved by the FDA for tobacco cessation purposes and made available by prescription only; and advocate for research funding to study the safety and effectiveness of e-cigarettes and vaping products for tobacco cessation purposes and their effects on the oral cavity.This interim policy is consistent with several major health organizations, including the American Medical Association and the U.S. Centers for Disease Control and Prevention, which notes that all tobacco products, including e-cigarettes, carry risk. Its adoption comes on the heels of an ADA House of Delegates resolution indicating that the word "vaping" and any other alternative nicotine delivery systems be added to the existing ADA policy focused on tobacco-use prevention, research, and regulation.
Adopting this interim policy is a major step in protecting our patients as we explore the long-term impact of vaping on oral health and overall well being. As we advocate for continued research and public health campaigns on the potential risks of vaping on the oral cavity, you, as ADA members, can help to support those efforts by reporting potential vaping-related concerns and oral health issues using the FDA's safety reporting portal. In the meantime, information on the ADA's efforts around vaping, including member resources, can be found at ADA.org/vaping.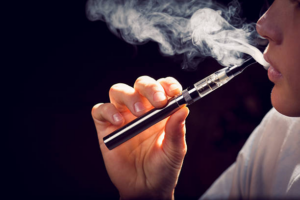 Make an Appointment With All About Smiles