Skip to Content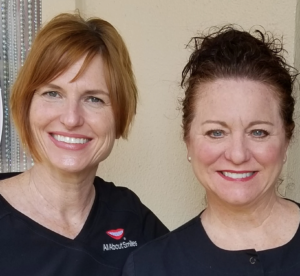 Welcome Terri
"Smile, it increases your face value"
Imagine helping children in remote areas wear a healthier smile and participate in a wonderful volunteer opportunity in Paraguay. All About Smiles is happy to report that our hygienist Nathalie Bokrand and her family will be able to join such a mission from March to September 2020 in Asunción, Paraguay.
Per Nathalie: "Thank you, for letting me take care of you and your precious smile. While I will miss seeing you on your next appointment, I can't wait to share all our adventures upon my return. Meanwhile, you'll be in the amazingly capable hands of Terri. After working for 23 years for a local dentist, we were able to convince her to join our team after hearing about her incredible reputation. Help us welcome her during your upcoming appointment and feel the thorough, gentle cleaning she is known for. Until then stay in touch by following us on Instagram @allaboutsmilesnaplesfl, and Facebook All About Smiles, or share in my personal journey
@ Rejoice_in_Paraguay2020.
Make an Appointment With All About Smiles